MALBOROGH MONSTER MUSIC MASH - RIFFS BAR
Published: March 5, 2011
We are delighted to announce that we will be headlining the fantastic, philanthropic 2011 Malborough Music Monster Mash which is being held at the Village Hall in Malborough, Devon (and not in Marlborough, Wiltshire as Google keeps trying to insist!).
The Friday night will feature a 'Battle of the Bands' competition, while on Saturday April 30 2011 HI-ON MAIDEN will headline with support from Quad Damage, I Am Forever and The Con.
This wonderfully alliterative event is being held to raise money for the Dave Sharp Young Musicians Fund. Dave was a popular local musician who sadly lost his battle against cancer in June 2009. The fund was set up in his memory to help local youngsters develop their musical talent through workshops, and also to raise money in support of cancer charities.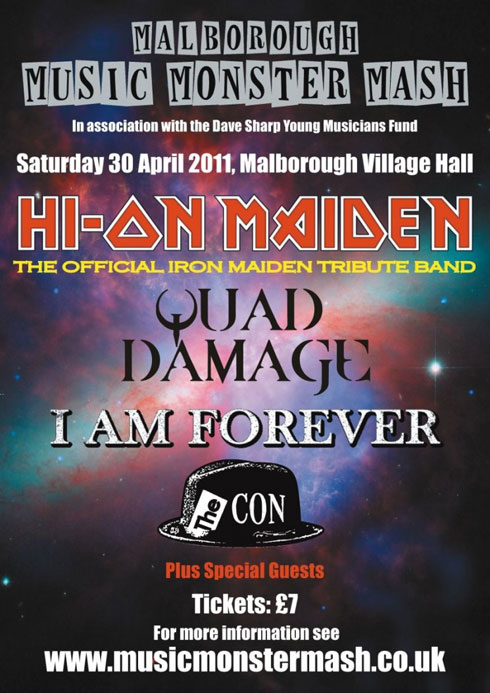 Tickets for the Saturday will cost £7·00 and are available from the venue or via the website: www.musicmonstermash.co.uk
---
The next night will see us returning to one of our favourite venues, Riffs Bar in Greatfield near Swindon. Riffs Bar won The Publican Awards UK Music Pub of the Year last year (winning previously in 2005 and 2006 as welll!), and really is one of the highlights of our calendar. Come and join Mr Hurry as he sinks his sixteenth Guinness of the night, and get a singing lesson or two from Bruce 'put your hand just there...' Dugginson!
---