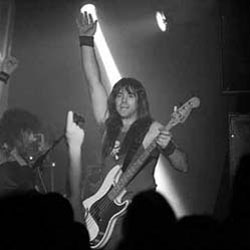 I was introduced to Speed in the summer of 2003 at the Stourbridge Rock Cafe. I was at university at the time studying music, and had been invited along to see Hi-on by some fine people I'd met the week before at the first Download Festival (headlined by Maiden themselves).
He came round to our table after the gig and probably showed us some card tricks or blew off, I can't quite remember! At any rate, he seemed a decent geezer and I thoroughly enjoyed the gig.
A little while later I auditioned as a stand-in for old Swifty who'd decided he didn't want to gig every weekend. I got the gig and have been around in some form or another ever since (Manic Gers, Dave Hurry, Biggest Dickinson...). So how do I sum up the five years I've known Speed Harris?
When I joined the band, it was clear that Speed was very much the driving force behind it. He was the one doing all the gig booking, the one who made the connections with agents and promoters, the one who sent the posters out... you name it, he did it. Except the driving - many of my first memories of Speed are him curled up in the back of the minibus sleeping at every available opportunity!
Besides his onstage persona being more like Steve Harris than Steve Harris is (and those are Nicko McBrain's words, not mine!!!), a lot of the things said about Steve can be applied to Speed as a person. He's simply one of the most honest characters I've ever met. He's not afraid to call a spade a spade, and you can trust him with just about anything. One of the things I admire most is his commitment - if he wants to be good at something, he'll work and work and work until he is. He once told me he learned to play like Steve Harris by spending a week with a bass on his lap attacking the strings in a Harris fashion, learning the moves watching old Maiden videos. That doesn't surprise me in the least. Next time you see him, ask him to show you a magic trick! Amazing what you can learn from the internet. Just don't play him at poker - he'll be all in before you can say "flop".
Onstage, the man is quite simply a marvel. From the word 'Go!', he's a blur of raw energy. Even on small stages he seems to find the space to run from one side to another, geeing up the crowd with the old machine gun bass and magic yo-yo eyebrows. You really have to watch yourself onstage, though - if you're in his way, you'll get a bass in the face! That bass sound of his is so close to the real thing, and it's a big factor in why we're so often praised on how similar we sound to Maiden themselves. At least that's what we tell ourselves as we break our wrists and arms lugging his amp about! If you're going to do the Maiden tribute thing properly, you really need to have 'Arry running around doing his thing, looking and sounding the part. In Speed Harris, we have exactly that.
Speed is also very much the jester of the pack. He's always the first to crack a joke, and more often than not armed with a copy of Viz to keep the rest of us in a perpetual state of chuckle on long van journeys. He does so love to take the piss, especially when his fellow band mates are a few sheets to the wind. Our pal "Melvin" is often egged on by Speed, and young Nicko McBrain Jnr. has fallen into the trap on a couple of occasions (Pernod, anyone?).
Despite his delight in such mick-taking, he's a stand-up guy and definitely someone you can count on to watch out for you.
---
SPEED HARRIS Fact file:
Date Of Birth:
27th February 1976
First Band:
The Advocacy - a punk band when I was 16. We played Clash, Pistols and SLF covers as well as a couple of our own numbers.
Previous Bands:
Some of my previous bands include: The Force (playing drums!!!), Sister Savage and the Buggered Nuns, and The Last Gang.
Favourite Band (other than Maiden):
There are a few: Lords of the New Church, The Sex Pistols, The Dead Boys, The Clash, Helloween....
Favourite Maiden Album:
Too hard to choose. I suppose it depends what mood I'm in but The Number of the Beast has so many strong songs on it.
First Maiden Gig:
22nd October 1998, Wolverhampton Civic Hall - The Virtual XI tour with Blaze on Vocals.
Favourite Maiden Song To Play Live:
There are too many to list, but here are a few: Revelations, Rime of the Ancient Mariner, 22 Acacia Avenue, Hallowed Be Thy Name, Phantom of the Opera...
Best Hi-on Maiden Gig Memory:
Thats easy for me. The Portugal leg of our European Fan Club Convention Tour 2001. Steve Harris was there and watched the whole show. I was bricking it!!! Steve let me use his chequer board bass for the show, and he got up with us in the encore to play four songs, and he used my bass!!! It was surreal being on stage with my hero, side by side, foot on the monitor... :o)
Worst Hi-on Maiden Gig Memory:
Probably when some prick stole my wig off my head right in the middle of Run To The Hills!!!
Favourite Venue:
JB's, Dudley.
Favourite Bass Player Other Than Steve Harris:
I have three other favourites - Sid Vicious, Paul Simonon and Dave Tregunna.
Who Would Be In Your Dream Band:
Michael Kiske - Vocals
Steve Jones - Rhythm Guitar
Yngwie J. Malmsteen - Lead Guitar
Steve Harris - Bass
Neil Peart - Drums