The story of Hi-on Maiden began back in September 1995 when Quicko McBrain and Adrian Swift I, who were already playing a few Maiden tunes in the Birmingham based soft rock band 'Who Are the Saints?', placed and advertisment looking for like minded people to form an Iron Maiden tribute band.
Within a week Speed Harris answered, and being a leftie had just one week to re-learn to play the bass right handed! Simon Bradley joined the trio to become the original Dave Hurry and Elias Aboud completed the line-up as Brisk Dickinson. After a brief brain storming session Simon coined the phrase Hi-on Maiden and the band was truely born.
There were no other Maiden tribute bands at the time, but nevertheless Speed wanted to make sure that they were as close to the real thing as possible. The first step was the look, and so the hunt was on for stage clothes that replicated those worn by Iron Maiden around the World Slavery Tour era. Then came the sound, and after several months of intensive rehearsals the band were ready. Hi-on Maiden took the stage on February 29th 1996 at The Market Tavern in Kidderminster to perform their debut gig. The reception from the crowd was fantastic.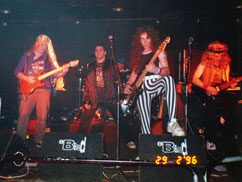 The Market Tavern - Feb '96
Sadly, two gigs later Elias had to move back to his home country of Lebanon, where he later formed the death/grind band Oath To Vanquish. Thus began a number of line-up changes which plagued the band in it's first year.
After only four shows Simon was forced to leave in pursuit of his career in music journalism, and was replaced with Quicko's friend, and Dave Murray look-alike, Rob Page. Phil Walchester took over as Brisk Dickinson II for a few months until he decided to leave to concentrate on his original band 'Wormhole'.

Hi-on Maiden & Phil Walchester
The band had a headlining tour booked starting the end of '96, so the race began to find another singer. An extensive advertising campaign was launched in the national music press, and after numerous (and humorous!) auditions Jamie Gibson was chosen to take the position.
During this tour the band played to thousands of fans across the land, and were joined on stage by none other than original Iron Maiden front man Paul Di'Anno at The Standard (pictured below) in Walthamstow.

Hi-on Maiden with Paul Di'Anno
Speed remembers; "We had heard from some of the fans in the front row that Paul Di'Anno was in the crowd! Our singer asked if this was true, and if Paul would like to come up on stage and do a couple of songs with us."
"We were all excited and starting looking round the room for him, but couldn't see him."
"Then I look down and there's this fat, bald guy trying to shake my hand, so I shake his hand then get back to looking for Di'Anno."
"This guy sticks his hand out again and I'm thinking what the fuck do you want? He says help me up on stage, I say 'no mate, Paul Di'Anno is coming up here in a minute' to which he replies 'I AM fucking Paul Di'Anno!!!'"
"He looked totally different to how we all remembered him, but when he hit that first scream of Killers, there was no mistake - it was definitely him."
Jamie's first love was always the guitar, and after the tour was over he decided to move back to Wycombe to hook up with his old band. The boys didn't have to wait long until a replacement singer fell into their laps.

Hi-on Maiden & Jamie Gibson
Ian McKenzie had put off going to see Hi-on Maiden when they played in Newcastle on their U.K. tour, as he saw a Maiden tribute as sacrilege. However performing Maiden was all he wanted to do, and decided to offer his services as either a drummer or a singer if they were needed. Talk about being in the right place at the right time!
A 1997 television appearance on 'The Sham Rock Quiz' followed, and after an unfortunate incident with a frozen carrot 'Big Dickinson' was born.
Speed had always made sure that Iron Maiden were aware of Hi-on Maiden's existence, so when he met Steve Harris for the first time in '97, Steve already knew all about the band. He kindly endorsed Hi-on Maiden, and generously gave Speed his permission to play Iron Maiden's intro music and any artwork he wanted to use. Later the same year, Speed and Ian also met Bruce Dickinson and Adrian Smith. They also knew of the band, and were both full of praise.
In 1999, Hi-on Maiden were asked to travel down to London to record the music for the Iron Maiden tribute album '666 - The Number One Beast' which featured famous singers such as Paul Di'Anno, Doogie White and Gary Barden. The album went on to sell over 50,000 copies in America alone, and many thousands more worldwide.
Hi-on Maiden's biggest break came when Iron Maiden asked them to perform at their Official Convention at the London Astoria. Nicko McBrain joined them on stage for 'Ghost of the Navigator', and immediately after the show Hi-on Maiden were asked to go on tour across Europe with the Iron Maiden Fan Club in 2001. They had now gained the honour of being 'The Official Iron Maiden Tribute Band'.
A whole new wardrobe of custom made spandex was bought, and Hi-on Maiden were ready to embark on the Fan Club Convention Tour. Nicko again joined the band on stage every night, and Adrian Smith also got up with the boys in Holland.

Adrian Smith with Hi-on Maiden
The climax to the tour was in Portugal, where Steve Harris jumped on stage to perform four songs during the encore!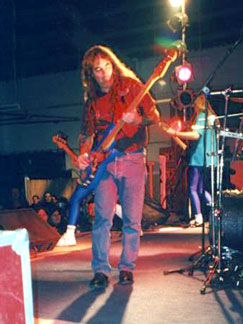 Steve Harris with Hi-on Maiden
After the success of the Iron Maiden Fan Club Convention Tour the decision was made to bring in a third guitarist for some of the bigger shows where the stage could accommodate it, and to stand in for guitarists if one of them couldn't make it to a show. Manic Gers was recruited to fill the position. Stage costumes and sets were brought up to date to re-align the band with the current incarnation of Iron Maiden.
Manic recalls: "It was an exciting time to be in a Maiden tribute, 'Dance of Death' had just come out, and after the dark times metal went through in the nineties there really seemed to be some light at the end of the tunnel."
"Getting up onstage with the boys for the first time at JB's in Dudley was a real thrill, and the crowd reaction was great."
"I especially liked the review that compared my brand new wig to Marylin Monroe...!"

Manic's first gig, at JB's
This line-up had played shows all across Europe and remained stable for almost ten years until late 2006, when tensions within the band began to mount. Both guitarists decided to leave so Chris McBride was brought in to become Adrian Swift II, and Guitarist Magazine writer Simon Bradley returned to the fold to resume his original position of Dave Hurry.
After the now infamous 'Aberdare Incident' Simon decided to hang up his wig for good and Manic Gers was promoted to the position of full-time guitarist under his new moniker Dave Hurry III. Things seemed to be settling down and moving in the right direction, however within the space of a month both Ian and Quicko made the decision to leave the band. There was then a mad rush to find a new drummer and vocalist, as both had left the band within three days of the next gig.

Adrian Swift II first gig
Thankfully, ready made replacements were on hand. Joe Lazarus, a young drummer who grew up and learnt to play literally sat behind Nicko onstage, was brought in to fill the drum stool as Nicko McBrain Jnr. Laz had sat in and guested with Hi-on Maiden on a few (frantic) occasions, so was the natural choice to replace Quicko.
Bruce Dugginson, singer with the Yorkshire based tribute band Iron-on Maiden, and without question the best Bruce Dickinson impersonator anywhere on the planet, kindly stepped in to assist until a permanent replacement could be found. He then later agreed to take on all Hi-on Maiden's future shows.

Dugginson and Jnr. at JB's
This line-up debuted at JB's in Dudley and were received spectacularly well by fans, with many noting the incredible skills of Mr. Dugginson who really does kick the crowd in the nuts with his huge voice and uncanny knack at capturing Bruce's mannerisms and singing style. With each member of the band now at the top of their game, it was time to stretch the horizons and bring Hi-on Maiden to the rest of the world's attention.
After spending most of the rest of 2007 on the road around the U.K. the band went on a brief tour of Belgium and Holland. Both Verviers and Nijmegen were great places to play, and the band will be returning to both with some regularity!
2008 began with a show packed February. Every weekend that month was spent gigging up and down the U.K. and culminated in a trip to Turkey to perform a four night tour! This was an absolute blast.

Crazy Turkish fans
Dave Hurry recalls: "The trip to Turkey was really something special. I'd never been that far East before, and seeing the mountainous vistas whipping past in the van was quite something."
"Calling it a van is a bit of a dis-service I suppose - leather trim interior, huge flat screen telly, it was more like a limo! My only whinge was the lack of mini-bar!"
"The trip was a musical success, even though we couldn't take our own gear with us (apart from our guitars). However we managed with whatever amps that the venues provided."
"The only gripe was that unfortunately Bruce Dugginson couldn't make it due to work commitments. Big Dickinson agreed to a 'one night only' reunion, just performed over four nights! Despite this the gigs went off without a hitch and we were treated like proper rock stars for a week. I can't wait to go back!"
2008 carried on with a packed March. Shows started to become fewer as venues and promoters alike started to feel the effects of the financial downturn, but things didn't droop too much. A show at Milton Keynes in April resulted in a catastrophic stage right amplifier meltdown, which spurred Mr. Hurry into action and the purchase of an amp used by the great Dave Murray of Iron Maiden himself.

Sue, Dugginson & Laz at the Ruskin
As 2008 progressed Hi-on Maiden were asked to perform at the Iron Maiden Fan Club Twickenham pre-show party, held at the historic Ruskin Arms the night before Iron Maiden played the Twickenham Stadium in July. And the Hi-on boys were lucky enough to be invited backstage to swarm among the liggers and have a few words with those they impersonate of a weekend.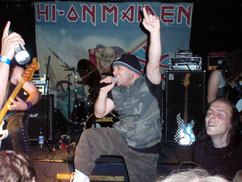 Dugginson at the Ruskin show
Other highlights of 2008 included the Masters of Rock III festival, held at the majestic Corn Exchange in Cambridge. This was a double-headliner with the AC/DC tribute band Dirty DC, and was a very fun event to be a part of. It also featured many Iron Maiden Fan Club members, also loyal Hi-on Maiden devotees, singing on stage with the band to the Iron Maiden '86 classic 'Heaven Can Wait'. All in all a resounding success!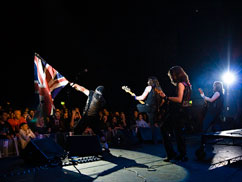 Masters of Rock III
November saw the band return to the Rockcafé Backstage in Nijmegen, Holland. The duration had been increased to two nights, with the band performing two completely different setlists (apart from the obvious). Another brilliant reception, with the offer to come back for many more nights in 2009!
Flash-forward to the present in 2009, and the horizons are ever expanding for Hi-on Maiden. A return to Turkey on the cards, Ireland and Scandinavia also looking very likely, with the band talking to promoters in many more countries about possible tours and plenty of shows around the U.K. to look forward to.
This line up is now widely regarded as the definitive Iron Maiden tribute band, and has gained even more praise from Iron Maiden, and it's fans, than ever before.
Up the Irons!